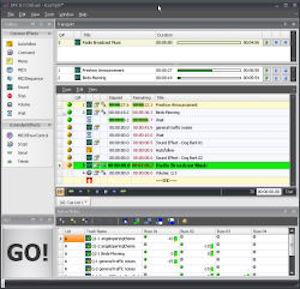 Windows PC-based media playback.
SFX 6 wins 2008 Sound Product of the Year in Live Design.

Official website: www.stageresearch.com

Ohio-based company headed up by Carlton Guc and Brad Rembiellak.
2013: SFX 6.2
2008: SFX v.6.0
2002 November: SFX v5.6
2002 January: SFX v5.5
1998 July: SFX v.5.20a
1998 May: SFX 5.11a
1998 March : SFX v5.1
1997: SFX v5.0
Basic
2 open Cues files (Cues Views) and 2 open Effects files (Effects views) per workspace
2 stereo outputs per Cues view
Limit of 2 simultaneous playing cues per Cues view
Sound Effects types are: Wave files, Autofollows, Waits, Fades, Stops and Memos.
Standard
No limit to the number of Cues files (Cues views) and Effects files (Effects views) per workspace
4 stereo output channels per Cues view
limit of 4 simultaneous playing cues per Cues view
Sound Effect types are: Wave files, MIDI sequences, CD Tracks, Autofollows, Waits, Fades, Stops, Memos, MIDI Commands, Triggers, and Restart
Array view
Keyboard and external MIDI triggering
ProAudio
Everything Standard includes plus the following:
8 stereo output channels per Cues view
no limit to the number of simultaneous playing cues per Cues view
looping Wave files
Show Control
Everything Standard includes plus the following:
MIDI Show Control effect type and MCI effect type
MIDI Time Code
Various show control plug-ins
SFX v5 Requirements (1999)
Pentium 200 MHz processor or better
64 MB of RAM
Windows 95, Windows 98 or Windows 2000
Video resolution 800 x 600 (1024 x 768 preferable)
CD-ROM drive
SCSI Hard drive (recommended)
Microsoft DirectX software (included with SFX)
Sound Card(s) with DirectX drivers
Parallel port
Related Shows
See also:
---
Documents

SFX 5.0 User Guide
(February 2002)
[2.66Mb PDF]

SFX 5.6 User Guide
(November 2002)
[2.7Mb PDF]

SFX Feature Sheet
(2003)
[1.01Mb PDF]

Front of House Magazine article
(March 2004)
[130kb PDF]
Stage Research SFX - Nickelodeon
(June 2010)
[External Website]
---
---
---
1129